Our Clientele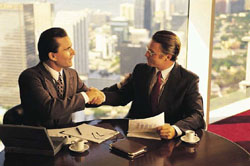 When you have helped as many businesses and individuals as we have, you start to notice certain patterns among the people you are working with.
Small business owners need group health insurance, key man insurance and 401k plans.
Entrepreneurs require their own disability insurance, since they usually are not covered by state Disability Income programs or Worker's Compensation insurance.
Young families need risk management and savings plans to provide home down payments and college funds for children.
Mature couples use life insurance for pension planning and commonly reorganize their investment strategies.
Recent college graduates establish IRA accounts and protect their future insurability.


We guide our clients' financial needs as they transition from students to entrepreneurs, spouses, parents and corporate executives. Each time their financial position changes, their needs shift and new questions pile up.
Fortunately, there is Berdan Benefits.
"The doors of wisdom are never shut."
—Benjamin Franklin.
Since 1985 we have been there for every kind of professional or personal financial planning need. When a Berdan client asks for help, our team always strives to provide help quickly, efficiently, and accurately.
"It is not a question how much a man knows, but what use he can make of what he knows."
—Josiah Gilbert Holland
Regardless of your financial position in life, whether you have not started planning or are solidly established, Berdan Benefits financial professionals will be there to help you ask and answer all the important questions about keeping your finances organized.
Berdan Benefits delivers the flexibility and information you need to illuminate your financial future. Let us show you how to better manage your wealth, health and retirement.