Disability Income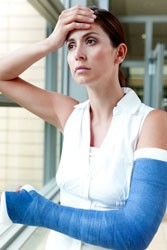 What if…?
You were skiing in Mammoth and broke your neck?
You got injured and were unable to work?
Cancer or a stroke made it impossible for you to earn a living?
You were hospitalized long-term?
You had an accident while visiting a foreign country?


Could you continue to care for your family and pay your bills?
Do you even know how much money you would need to maintain your lifestyle and where it would come from should something happen to you?
It is remarkable how many people take the chance their livelihood by not carrying Disability Income Protection. For these people and their families, an illness or injury that stops their paychecks is guaranteed to create havoc.
Fortunately there is Berdan Benefits. We will help you examine the options provided to you by the government or your employer, then design a program specific to your needs to help you fill in the gaps should something devastating happen.
Disability Income Protection will be capable of replacing a major portion of your income when sickness or injury gets in the way of you earning a living.
Plan today to sit with a member of the Berdan Benefits team to determine:
The chances of you becoming disabled
How a disablity can affect your finances
Possible sources of disability income
What disability income insurance is
What disability income insurance covers


Discover for yourself why we are San Diego's Trusted Financial Services Provider.
"Integrity and firmness are all I can promise."
—George Washington